Fresh Supplies
Every 5 days
Fresh supplies are flown in by air to Seronera Airstrip (depending where the camp is)
Clients will always get fresh food
It takes lots of Logistics
We pack them in boxes after being wrapped in newspapers that is then sprinkled with water to keep them moist and fresh by the time they reach camp
Resupplies to camp will be
Fruits of the season,
Vegetables
Meats
Other groceries that have run out in camp
They will arrive in in the Serengeti by shedualflights from Arusha Airport
The Staff will have to be at the Arusha Airport by 6.30 am
Food while on Mobile and Standard Camping Safari
What types of food are served on safari?
The food served at all of the safari lodges and tented camps in our portfolio is of the highest quality. At certain lodges, gourmet cooks bake fresh breads, and produce soups, salads, and entrées that could easily grace tables at top restaurants around the world.
Meals are international in flavored with soups, salads, cold meats, pasta dishes, meat and fish dishes, breads and other starch.
We prefer to use camps and lodges that opt for good, wholesome home-style cooking at elegantly set dining tables (sometimes under the stars, sometimes under thatch or canvas) where guests can discuss and debate the day's events with their guides and fellow guests.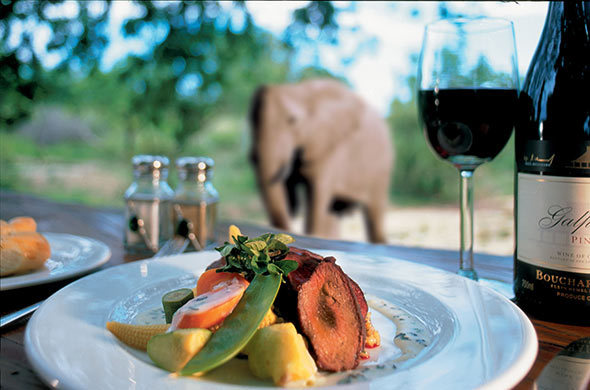 Meal times are geared around the best game viewing times and other activities specific to a particular camp
Your Normal food for the day
Your day normally starts with coffee, tea and biscuits being you're your morning call.
Then breakfast is served and you depart for your morning activity, returning to camp late morning for brunch will be waiting. Buffet brunches are typical with a warm dish such as stew served with salads, quiches and cold meats. Cereals, fruit, bacon, eggs, sausage, and toast are also usually on offer. Cake and tea is served before the afternoon activity. Dinner consists of an appetizer followed by meat, fish and pasta dishes served with assorted vegetables and sauces.
This is followed by coffee and tea, cheeses and sinful desserts!
Sample Safari Menu
Delicious Safari Cuisine
The meals served in camps are of a high standard and can range from local to western food. The chefs are fully trained and know the importance of preparing delicious cuisine after a day on Safari. The menu below is a sample menu of what you can expect on our mobile and adventure safaris.
Breakfast in Camp
Fruits
Bread – toast with butter, jam, marmalade and honey
Eggs
Sausages / Bacon / Cold cuts
Beans
Porridge/ cereal
Tea / Coffee
Mineral Water and juice
Picnic Lunch Box
Consists of
Sandwich,
Packet of juice,
Boiled egg,
Roasted Chicken
Cream Crackers
Chocolate
Fruit of the season
Mineral Water
Cheese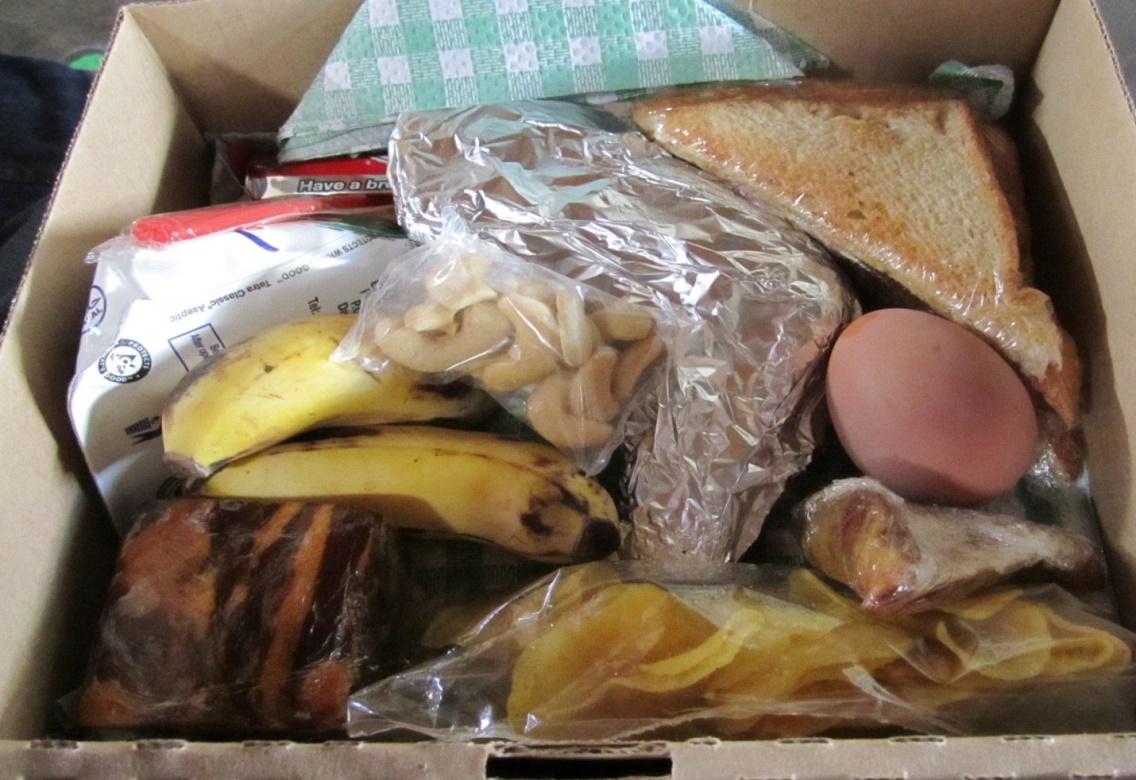 Dinner
Appetizer
Appetizer of the season e.g. Avocado vinaigrette Vegetable Salads
Avocado Orange Salad
Asian Main dishes
Chicken Curry
Beef Curry
Egg Curry
Chapattis
Mixed vegetable Casserole dish in white souse
Kadhi and Khitchri 100% vegetarian
Daal
Peas and Potato Curry
Masala Chips
Naans
Banana fritters, PineappleFritters, Sweet Cassava dessert, Cake and CustardZanzibari Haluwa comes with sour Coffee GulabJambu (Indian Sweet), Faluda (Indian Sweet), Cream Caramel, Cheese Cake, Pineapple Pie, Apple Pie
Tea / Coffee
Roasted peanuts / popcorn / biscuits / Cassava (Muhogo Swahili Style) Chevro, Mixed peanuts and Cashew nuts by the fire place
We cater for vegetarians and we offer Courser food in our camping safaris.
We will also provide you with Samosas meat and vegetable at same time we will provide you with beef meat balls (Kebabs) by the fire place
The Bar
When on safari we will provide you your drinks according to your needs
We will serve you with African cocktails as well